Tokyo tonkotsu ramen "BANKARA"
What is "BANKARA"?
The Tokyo tonkotsu ramen "Bankara" possesses a delectable taste of natural pork bone broth which is extremely rich and flavorful. Known as the youth's favorite, the secret lies in the rich taste and flavor of the meticulously prepared pork broth as the base soup and the melted super tender pork backfat as a final flourish to the ramen. The broth was prepared overtime in order to obtain the perfect consistency and rich meatiness. As of today, we are operating more than 30 branches in Japan. With the rising increase in demand and popularity, we are open to setting up branches overseas. "Bankara" brand is determined to offer the same quality and taste of the authentic tonkotsu ramen not just in Japan but also worldwide.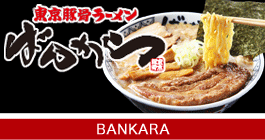 Features of Tokyo Tonkotsu "BANKARA" Ramen
1.Tokyo Tonkotsu (pork base) Soup

Meticulously prepared pork bone broth – extremely rich and thick pork soup cooked for several hours. Combined with special flavorings in order to achieve a creamy consistency with the perfect aroma.
2.Sweetish Back fat

The sweetish flavor perfectly suits the rich taste of Tokyo Tonkotsu Soup making the fat-laced broth irresistible!
3. Soup and noodles combination that suits each season

Selecting the most suitable type of noodles and soup for each season is the finest trick to satisfy cravings. There are four types of noodles in Bankara to be used in different seasons. 
4. Ceaseless effort to continuous improvement

A never-ending venture to continuous improvement, in search for the best ingredients and methods to perfect our products overtime.
Bankara Menu
▼ Ramen Menu
▼ Side Menu
Access Information
■ Bangkok Sukhumvit
This Bangkok Sukhumvit Road store was born as the first store overseas in 2008, (Thailand). It is said that ramen offered to pursue the taste exactly the same with Japan also spark of ramen boom in Bangkok, Thailand. It is the store that provides a "one set of values??" on which is positioned as a flagship store to handle the menu of "Bankara" and "Seibee" both, in pursuit of Japanese quality service.
Address:
32/1 Sukhumvit 39, Sukhumvit, Bangkok 10110, The Manor Shopping Complex <Google Map>
Open: 11:00 ~ 23:00
Phone: 02-662-5162-3
URL: eatingthaifood.com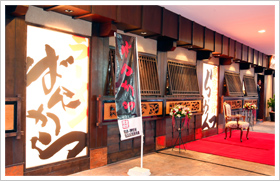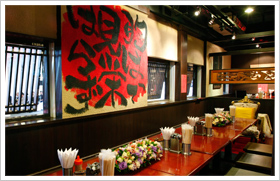 ■ Siam Paragon
Address:
Rama 1rd.patthumwan Bangkok 10330,991 G.floor siam paragon shopping center <Google Map>
Open: 10:00 ~ 22:00
Phone: 086-624-5162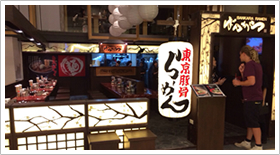 ■ Avenue K
Address:
Lot 2-7.level 2 avenue K.156 jalan Ampang 50450 Kuala Lumpur Malaysia <Google Map>
Open: 11:00 ~ 22:00
Phone: +60321818618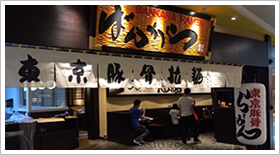 ■ Indonesia Ciputra world
Address:
Ciputra world 1 superblock 3F JI.Prof.Dr.Satrio kav 3-5 south Jakarta 12940 Indonesia
<Google Map>
Open: 11:00 ~ 22:00 (Last order 21:30)
Phone: +622129089305

■ Mid Valley
Address:
Lot T-028, 3rd Floor Mid Valley Megamall Kuala Lumpur
<Google Map>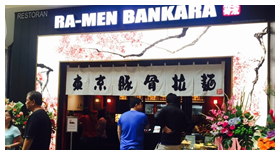 ■ Target Centre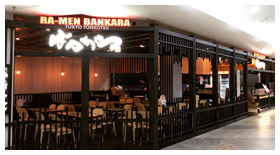 ■ Thani 3rd
Address:
94 Rangsit-Pathum Thani 12 Soi 11, Prachathipat, Thanyaburi District, Pathum Thani
<Google Map>