Misoya ramen "SEIBEE"

What is "SEIBEE"?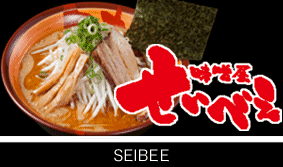 "SEIBEE" is an original miso ramen brand which characterizes the real essence of Japanese traditional cooking. The rich taste of miso greatly entices and satisfies the taste buds of miso ramen lovers giving an impression of authentic Japanese flavor. The addition of a number of fresh vegetables produces a unique variety of miso with distinct flavor, texture, color and aroma. Currently, we are operating more than eight branches in Japan alone, and has started opening branches overseas. The 'Seibee' brand is confident and able to offer the same quality taste regardless of location. Seibee brand is proud to bring only the authentic taste of Japanese Ramen in its branches all over the world. Features of Misoya "SEIBEE" Ramen
1. Special variety of Miso

A specially made variety of miso which is carefully made and added with a number of fresh vegetables to achieve a strong taste of sweetness and richness which is can't be found in any other ramen dishes.
2. Perfect choice of noodle

Specifically uses a "multi-hydrolytic aging thick noodle" which goes perfectly with the thick miso soup. This ramen has a smooth and soft mouthfeel, which feels like eating a motchiri, that certainly goes well with the rich thick miso soup.
3. Best Ramen to eat with Rice

Sure is the best ramen to partner with rice! One of the best way to enjoy Seibee is to eat miso ramen with rice.
4. Continuous improvement

Seibee continuously strives to improve all aspects of the business – from the procurement of ingredients to finding better methods on how perfect their original recipe.