Business

Our Business Policy
We at Hanaken Group puts customer satisfaction before anything else. We make sure that every dining experience in our restaurants is remarkable. Our mission is to continuously build quick service restaurants and share the amazing and authentic Japanese gastronomical experience to everyone who loves food and great service. With this, we will be able to establish a strong market presence that will help boost sales and profit.
Are you interested to start your own Ramen Business?
Good news, you are definitely in the right place! We have the perfect franchise model for you ? with a strong brand identity in Asia and Japan, "Bankara" and "Seibee", you don't need to worry in marketing your restaurant. This business package is inclusive of comprehensive operations training for employees plus support, store development and high quality products/ingredients from Japan.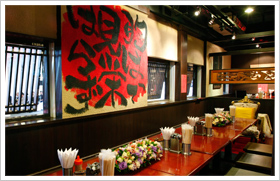 What we offer and our Strengths
1.Our Business Package – Product and Service Offered strictly of Japanese Quality

We believe in consistency. We always make sure that we recreate the original for every franchisee. The quality and taste follows the same high quality standards that we have in Japan. Our support team is always willing to go the extra mile to assist you on the basics of operation, quality assurance, and financial management.

2.Comprehensive Trainings following Japanese Standards

We will provide every franchisee comprehensive initial trainings on Japanese Hospitality, Culture to ensure that the quality of service provided to customers is in accordance to Japanese standards followed by good quality ongoing support.

3.Human Resource Management

Effective human resource management plays an important role in establishing a successful Ramen business. We make sure that only qualified employees take part on the operation in order to maintain unparalleled quality service.

4.Tried and Tested Business Model

We have conducted thorough and effective market research and found out that there is a proven demand for our products. We have also carefully selected our business partners, locations and staff to ensure excellent outcome of the business.